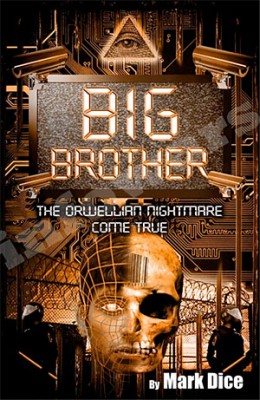 We as humans are fascinated by our own complexities. An infinite stream of research and experiments have been carried out since we first shed our apish form in order to dissect our behaviour as much as possible, but we never seem to uncover an accurate enough answer to satisfy ourselves. The Internet swells with psychological tests and misinformed articles about our hidden inner psyches, but how much do scientists actually know? And what exactly do they want to do with this information?
In The Orwellian Nightmare Come True, Dice mentions numerous technological advances that pinpoint and record subtleties in facial expressions which could potentially translate thoughts before they are even acted upon. WeCU is one of those systems described that is currently being used at airports in Israel to discern potential terrorists. Certain physical signs such as quick eye movement, uneven breathing and nervous twitching is provoked in suspects with the use of terrorism-related imagery. Of course this sort of thing could not provide substantial evidence for the intricate legalities of the west, but Dice believes the fact that this is practiced anywhere is cause for concern.
It is not only technology that can detect suspicious behaviour. 'Microexpression' is a term best associated with the television series Lie To Me, but behind the fiction there is a reality. Psychologists Haggard and Isaacs came up with this term in a 1966 study in which they determined that minor, almost unnoticeable facial expressions can potentially reveal whether a person is lying or telling the truth. People can apparently be trained to spot these microexpressions, but the method is not yet reliable enough to be used officially.
Dice acknowledges that the idea of mind reading goes beyond the crude art of expression detection. In a multitude of differing scientific experiments, the use of fMRI's (functional magnetic resonance imaging) have provided a fascinating insight into what our brains do physically when we are thinking and feeling. Particular sectors of the brain are used when we experience emotions and perform tasks, and this information can help doctors discover neurological disorders in patients. They can also apparently provide 'unbiased methods for the detection of deception and other information stored in the brain'.
But what does this all mean? Personally I find psychological experiments inherently fascinating, but of course the history of psychology is saturated in wrongdoing, unfairness and occasionally downright evil behaviour. I have never thought of science to be a threatening force but the reasons behind certain fields of research can often be worrying. Of course Dice's aim in his book is to promote feelings of paranoia and hatred toward the government, but I can't help but agree that psychology is becoming less of an interest and more of a weapon. The thinking behind an act of terrorism seems to be much more appealing than that of any other abnormal behaviour, suggesting that the powers that be are failing to see the bigger picture.
After all, there are no terrorists without the threat of political corruption, and single-minded politicians still stand at the forefront of most governments.