The selection of artistic delights I enjoyed in June had a somewhat surrealistic theme: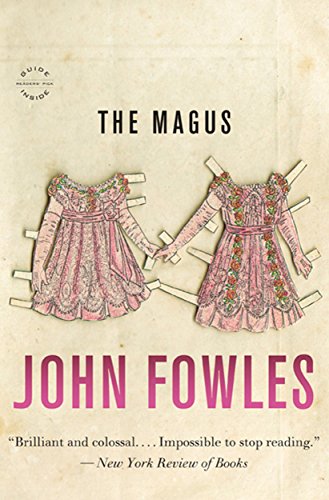 The Magus by John Fowles
I read Fowles' The Collector four years ago and absolutely loved it. I would even go so far as to say that it's probably one of my top five favourite books of all time…not that I believe in listing favourites. Why do we have to rank the things we enjoy? What's involved in this ranking system? Why do we have to have a favourite? What if I change my mind? How do you rate two completely different genres together?
Anywho, I found a copy of The Magus by chance in a charity shop a year or so ago. It's a big meaty book and I was hesitant to commit to such a long read for a while, but I'm glad I waited until I felt patient enough to dive into it. Because you don't just read The Magus – you drown in it. It's exciting, confusing, shocking and doesn't let you sit back and take a breath for a single moment. Never have I read something with so many unexpected twists and turns that it's left me feeling as inspired as it has sick with horror.
It's hard to explain the plot, really. For such a long book it's very fast-paced, and what you think you know ends up changing in the next chapter. A basic overview would be a lost and rather immature university graduate named Nicholas travels to a remote Greek island to teach English. He is a cold-hearted romantic, a rebel that conforms to society's norms. He is a deeply fascinating character, even when he's not particularly likable.
Nicholas meets a rich man on the island – Maurice Conchis – and then everything goes topsy-turvy. What follows is a series of tricks played on both Nicholas and the reader. These tricks make incredibly poignant statements about class, society, psychology, humanity, morality and relationships. The novel continuously lulls you into a false sense of security, then wreaks havoc with everything you thought you knew and expected. It's an incredible feat, and I've never read a book like it before and I'm sure I never will again.
Before reading The Magus, I recommend reading short stories, light trash or something comforting and warm, because this novel is a trip and a half.
Anima
Thom Yorke released a new solo album on 27th June. I didn't like it at first and thought it was nothing compared to the Eraser and Tomorrow's Modern Boxes. Then I remembered I didn't like the Eraser or Tomorrow's Modern Boxes when I had first listened to them either. After a couple of run-throughs, I realised just how incredible Anima is. It's the only thing I've been listening to ever since.
To accompany the album's release, Yorke created a short film with Paul Thomas Anderson and released it on Netflix. I love Paul Thomas Anderson. He is a genuine genius, so of course I had to watch the film the minute I realised I actually liked the album.
The film Anima is basically a long music video with snippets of music from the album while Yorke and a bunch of dancers make your eyes happy for fifteen minutes. The same choreographer worked on the remake of Suspiria (of which I loved the dancing, but didn't much care or the movie). It's so satisfying to watch and has a really captivating narrative throughout. The movements are bizarre and disconcerting while conveying real, raw emotion. It fits so well with the music I struggle to think of the two as separate pieces of art now.
I just wish Thom Yorke would get a haircut.
Child's Play
I sometimes get free cinema tickets through work, which is the only reason I went to see Child's Play by myself on a Monday afternoon. No regrets. This comedy horror is gruesome, hilarious and really entertaining. If you've seen the other films in the franchise you know what to expect and won't be disappointed. Also, Aubrey Plaza.