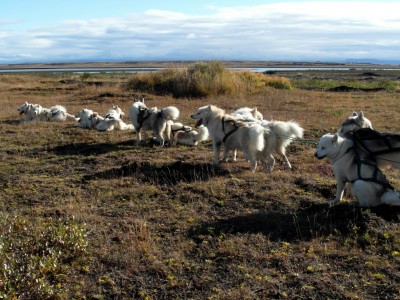 No matter what other activities I plan to do during my stay in Iceland, I think the single most memorable event will always remain the same: the day I met a beautiful pack of Greenlandic sled dogs.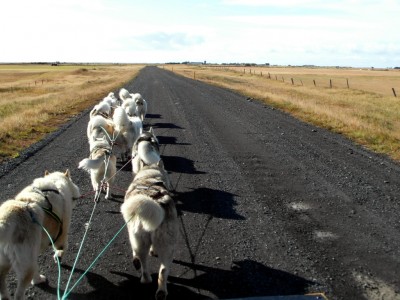 On the south coast of Iceland very close to Selfoss, there are miles upon miles of farmland. The area consists of marsh, grassy patches, rivers, rocks and boulders, and it's difficult to believe that people actually live and work out there. Not only is the terrain varied and awkward, but I didn't see a single person during the entirety of my journey. No farmers – just cows, horses and acres of nothing.
However, after an hour of driving down a narrow bumpy road, I finally spied a sign with the image of a sled dog on it. I was greeted warmly by an American and a New Zealander, both of whom help out at the farm, and was then immediately led to a fenced enclosure to meet the dogs.
Backed onto a farmhouse was a square of pens and a muddy area in the middle where the dogs could roam freely when allowed out. There were two dogs to a pen, and the New Zealander introduced them all one by one, detailing their individual personalities and their hierarchies within the pack. Most of the dogs ran to the front of their cage, tails wagging, tongues ready to lick petting hands, and the few that were too busy lounging in the sun still greeted me with a flick of the tail…but then promptly fell back to sleep. I was really shocked that they were all so incredibly friendly; I suppose I held the incorrect assumption that any dog that lives outside is less domesticated.
Obviously not all of the forty-plus dogs could be taken out at once, so a team of twelve were selected and harnessed to pull a metal cart on wheels carrying five adults. These dogs were incredibly strong, and I thoroughly enjoyed the hour that I spent travelling through the countryside with these powerful animals. They silently trudged down the road, head down, completely focused on the task ahead.
When I got back I was allowed a short play-time with four of the puppies that had been bred on the farm. I use the term 'puppies' loosely, as although these dogs were only three months old, they weighed THIRTY KILOGRAMS. That's almost five stone. My two-year old collie just about weighs that.
I can't stress enough what a perfectly wonderful day I had. I think no matter what the weather, it is an incredible sight to witness these dogs at work and I can well imagine that they would tackle snow and ice with just as much ease and grace as they did with the grassy terrain.
If you ever plan to go to Iceland, visit www.dogsledding.is and spend a day on the farm. It really is the most incredible experience.
Now to end this blog post, here are some more photos of the puppies I met. To be honest, I wouldn't be offended if you skipped the entire article and went straight for the pictures. After all, puppies are the only things more powerful than the written word.