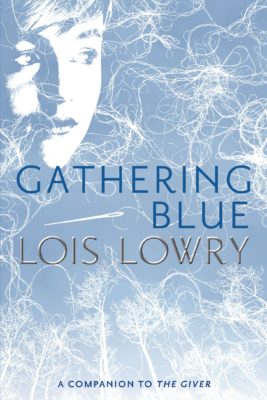 Gathering Blue by Lois Lowry
Believe me, no one wanted to love Gathering Blue more than I did, but I just didn't enjoy the second book in the Giver Quartet.
I'm shocked, particularly as the Giver was such a masterpiece. I was convinced this would be the first series of books since Harry Potter that has truly captured my imagination, but it was just a little bit… not good.
The story follows Kira, a young teen with a twisted leg who is exceptionally good at embroidery. Her mother dies at the beginning of the novel and as her disability stops her from helping out with day-to-day tasks, the people of the village want to throw her into the wilderness to fend for herself. However, she is saved by the village Council who decide to take her on board as their official embroiderer due to her innate skill. What ensues is a tale of unconcealed oppression depicted as a plot twist and lots and lots (and lots) of detailed descriptions of thread.
I feel so incredibly let down by Lois Lowry. What the heck happened from the first book to the second? How has an incredibly beautiful first novel descended into, dare I say it, YA trash?
But hey, this might be the big build-up to the phenomenal piece of fiction that is Messenger, the third book in the series. Who knows? I'll keep you posted.
This review is part of my 2017 Reading Challenge.
Save