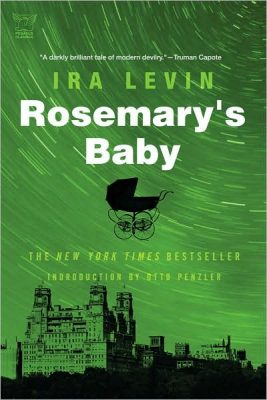 Rosemary's Baby by Ira Levin
I watched the 1968 movie adaptation of Rosemary's Baby some years ago. I remember thinking I had never seen anything quite like it before, and to some degree I've not seen anything like it since. It's both a movie of its time and a timeless classic, balancing realism with surrealism in a way that was confusing, compelling and stuck in my brain like glue for weeks afterwards.
When I saw the novel by Ira Levin sitting in a charity shop I picked it up somewhat hesitantly – there's often such a divide between novels and their movie counterparts that the audience tends to favour one over the other. I was worried that reading it would spoil the fascination I had for Mia Farrow's weirdly attractive mania and the way the movie depicts pregnancy with such grotesque beauty.
The novel is set in New York in 1966. Guy Woodhouse, an upcoming actor, and his young wife Rosemary are searching for the perfect apartment to be their first home together as husband and wife. They find a place with lots of character in a gothic building called the Bramford and Rosemary quickly gets to work to make it look homely. Her friend, Hutch, warns her of the building's grim past that includes suicide and murder, but she fobs him off.
The couple have some very strange neighbours, the strangest of all being the Castevets. Minnie and Roman are an older couple who are fairly intrusive and worm their way into the couple's lives but, as Guy adopts them happily as substitute parental figures, Rosemary is forced to endure them.
The couple get even worse when Rosemary discovers she's pregnant. They insist on helping out on a daily basis, finding her a doctor and ensuring she drinks a vitamin enriched concoction every day to keep the baby healthy. Guy, however, is getting more and more distant and is acting very suspiciously. So what exactly is the Castevets' motive for forcing themselves into Rosemary's life? And why is Guy acting so coldly?
This could very well be my all time favourite horror novel. It's best described as a 'page-turner' but doesn't skimp on the detail or characterisation unlike other thrillers. It was oddly believable despite the supernatural element to it and the plot very gently unwound to reveal sinister undertones that culminated in a satisfying yet horrifying ending.
The suspenseful pace was genius and, despite knowing where the plot was heading, I was on the edge of my seat throughout the novel. I was so involved in the story that I read it in just over 24 hours, and whenever I was forced to abandon it Rosemary, Guy and the Castevets was all I could think about.
If you like your horror eerie, clever and sinister rather than outright scary, than Rosemary's Baby will deliver that in spades. It's relentless and powerful, and much like the movie has been stuck in my brain like glue ever since.