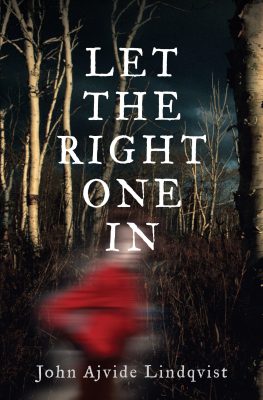 Let The Right One In by John Ajvide Lindqvist
The majority of Swedish fiction seems to fall into one of two categories: bizarre or grim. Let The Right One In most certainly falls into the grim category.
The novel has multiple subplots and groups of characters that come together to form an intertwined timeline of related events, but at the forefront of it all is Oskar, a chubby boy who is a victim of merciless bullying, and his strange new neighbour Eli. They meet at night outside their apartment block and are immediately drawn to one another but are not quite sure why. Oskar is unique and interesting albeit a little pathetic, and Eli is mysterious, oddly mature for her young years and quietly confident. Both odd misfits and exceedingly lonely, their relationship develops into something neither of them could have hoped for…or wanted.
This novel is truly another level of horror. The level of detail is incredible but not tedious, the violence is gruesome but serves a purpose (and is not the least bit enjoyable), the characters are complex and fascinating and I found myself completely emotionally invested in the story. As it is set in the winter of 1981 in the working class town of Blackeberg, Sweden, the backdrop is remote and provides an eerie and foreboding tone that wouldn't have been as effective in any other time or location.
Oskar is by far the most enjoyable character of the novel and his development is both beautiful and painful to read. I found some of the older characters less interesting, particularly those featured in the Chinese restaurant, but the way Lindqvist incorporates them all is so delicately balanced that the outcome is worth the time spent with unlikeable alcoholics that have little to no backstory.
The novel lost its pace nearing the end and I was expecting the conclusion to be disappointing, but thankfully things picked up again in the final pages and I finished Let The Right One In feeling a whole host of emotions.It feels wrong to say I enjoyed a book so harrowing and disturbing, but I really enjoyed the journey it took me on.
If you're very sensitive to gore and pedophillic content then I would probably steer clear of Let the Right One in, but overall this intricate and compelling read is so much more than a vampiric horror novel. It goes to show the level of fiction this genre can achieve and gives me hope that one day horror fans will be more inspired by Lindqvist than the Saw franchise.