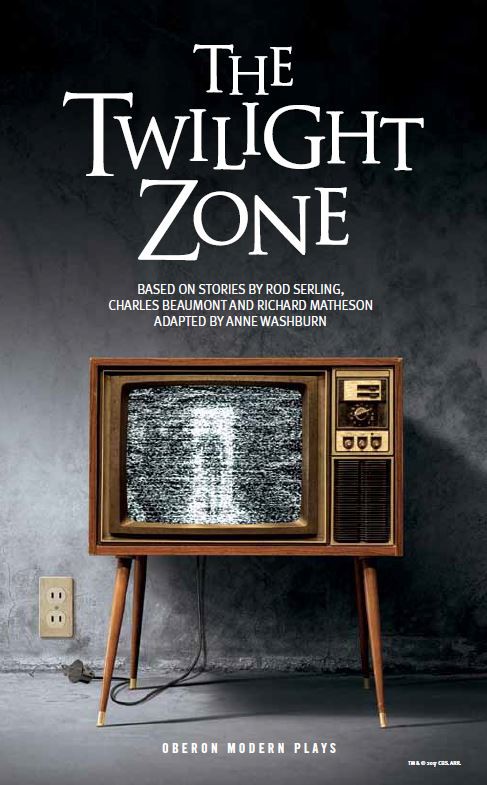 Directed by Richard Jones
Adapted by Anne Washburn
Based on stories by Rod Serling, Charles Beaumont, Richard Matheson
Starring Oliver Alvin-Wilson, Alisha Bailey, Natasha J Barnes, Adrianna Bertola, Daniel Crossley, Dyfan Dwyfor, Neil Haigh, Nicholas Karimi, Lauren O'Neil, Matthew Steer
The Twilight Zone was on my list of legendary TV shows to watch for years. So many of the science fiction, horror and comedy writers I admire have referred to it as a significant influence on their work, and fans talk about it with such passion, affection and admiration that I knew I had to watch it to become a true science fiction enthusiast.
What finally coerced me to watch it was finding out about the Twilight Zone play showing at the Ambassadors Theatre in London. My partner and I bought the Blu-ray boxset and a pair of tickets instead of going on a weekend away together, and I can safely say that neither of us have regretted making that decision.
We watched as many episodes as we could leading up to the performance, and I was surprised to discover that every single one contained something special; they were thought-provoking, entertaining and downright bizarre at times, yet timeless. Great stories simply don't age, and the production and cinematography were more impressive than most of the television shows I've seen in recent years.
We also fell in love with Rod Serling and the way he spoke, his mannerisms and his unquenchable enthusiasm for weird and wonderful stories. He was clearly way ahead of his time, both artistically and politically, but it's also hard not to chuckle fondly at the lines he delivers with such fervour:
"You unlock this door with the key of imagination. Beyond it is another dimension: a dimension of sound, a dimension of sight, a dimension of mind. You're moving into a land of both shadow and substance, of things and ideas. You've just crossed over into… the Twilight Zone."
I did wonder how on earth such a unique TV show created nearly seventy years ago could possibly be translated to the stage, but I needn't have worried. The play is made up of some of the best episodes chopped up and interspersed together, with superb performances from a small cast that played several different characters.
I must admit that after the first half I wasn't quite sure how the play was going to come to its conclusion, as it is essentially an anthology of short stories, but the final scene was beautifully Serling-esque and brought the whole thing together in a very satisfying way (although I won't give any details due to spoilers, of course).
The play was ultimately a homage to the great Rod Serling, and his distinct way with words was playfully imitated throughout the play as the actors intermittently broke the fourth wall. With unexpected magic tricks, endless cigarette props, mesmeric (and often hilarious) transitions between scenes and incredible black, grey and white costumes (one of the many superb details that added to the nostalgia), I can't recommend this enough to fans of the Twilight Zone.
However, this is not really a standalone play – if you haven't seen the TV show, you'll get quite lost in the references. The entire production relies heavily on the audience's love for Serling. Fortunately for me I have this in abundance and appreciated every second, but this is a very niche production.
For me, the Twilight Zone play was a lot like going to see We Will Rock You or Mamma Mia. If you don't know or like the music, you probably wouldn't buy tickets to go and see them, but that doesn't mean they're a form of tribute act that pales in comparison to the real thing. The Twilight Zone play is an interpretation of a much beloved creation, and in many ways that's the hardest concept to execute well. I'm very, very happy to say that it did.