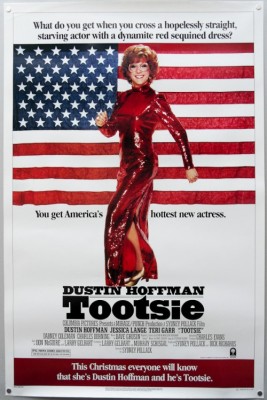 Directed by Sydney Pollack
Written by Larry Gelbart (story idea), Murray Schisgal, Barry Levinson, Elaine May, Robert Garland (screenplay)
Starring Dustin Hoffman, Jessica Lange, Teri Garr, Bill Murray
Michael (Hoffman) is an out of work actor, too argumentative and hypersensitive with anything concerning his craft to be able to work with anyone in New York. He teaches acting as a day job and takes the time to coach his friend, Sandy (Garr), one-on-one in order to help prep her audition for the part of a feisty soap opera character. She is dismissed without even reading a line and Michael is furious, frustrated and exhausted with the constant failures he sees in acting.
Out of sheer desperation, Michael dresses up as a woman to audition for Sandy's part, feeling that he is a good enough actor to be hired if only he could begin afresh with a new reputation and identity. Before being dismissed solely on his/her looks as Sandy had been, 'Dorothy' (Hoffman) kicks up a stink about being treated fairly and is granted a proper audition. Her spirited behaviour and impressive reading of the part ensures her a place in the television drama and she rises quickly to fame, but will Michael be able to keep up the pretense of being Dorothy? Obviously not. Will he fall in love with someone and have it all go hilariously wrong as he is unfortunately dressed up as a woman? Of course. Will he be shown the errors of his previously chauvinistic ways? Yup, he sure will.
Amongst the more predictable parts of the movie there are a few mysteries as well, for instance why does Michael decide to become Dorothy in the first place? How does the admin staff at the television studio he works for not know anything about him? Do they not need contracts and documents in order to hire him, or was it so very different in the 80s? Why does Julie (Lange) accept that Dorothy goes to bed with full-on makeup?
Aside from these deeply troubling questions (for me at least), the film is enjoyable. It hasn't dated incredibly well, but it puts forward a lot of interesting points surrounding the subject of sexism in the workplace that is still relevant to a modern audience. I think it was an incredibly poignant moment in the film when Julie's father (Charles Durning) suggested that women are not quite sure what they want with regards to equality, for living as a man is just as unequal as living as a woman. Women just want to have what men have but, as Durning's character also noted, the men and women always have and always will be different  – and the two will therefore always require differing treatment.
It's easy to spot the inspiration for Mrs Doubtfire when watching Tootsie. Both have emasculated male actors as lead characters struggling for work and for love, so they (Michael and 'Daniel' – Mrs Doubtfire) dress up as women to solve their problems, only to have the weight of their lies come crashing down around them nearing the end. But it wouldn't be an American movie without a happy ending…
Dustin Hoffman makes a terribly ugly and unconvincing woman, although his voice and mannerisms are surprisingly good. The film is fun, and I adored the montages and the cheesy music; it's just everything you want from a Sunday afternoon film (even though I watched it on a Thursday – to the unemployed every day is a Sunday). I'd definitely recommend Tootsie for anyone with a spare couple of hours, but it won't change your life.