Get These Unnatural Men in paperback and on Kindle here.
8th April was a very momentous day for me. I posted the first chapter of my debut novel, These Unnatural Men, onto Dystopic (which you can read here) and went on East London Radio's Wheels in Motion to speak to Chris Ridgeway about all things dystopian. You can listen to the show online here.
Chris was kind enough to read an excerpt live on air, which I will post at the very end of this blog, but first here is another exclusive – the blurb for These Unnatural Men:
The public call her a cold-blooded murderer. An executioner. A killer for hire. 

Nieve Hindeman is a euthanasist. 

She is one of hundreds of professionals relieving patients of their pain every day. To her it is simply a medical solution to a medical problem. 

But when Nieve starts to treat voluntary patients, she finds there are more questions than answers. Is assisted suicide the cure, or the last resort? Can anyone be psychologically terminally ill? And what is the difference between euthanasia and murder? 

Unravelling the true meaning of ethics, desperation and uncertainty, These Unnatural Men is a haunting story that gives the reader a glimpse of a very possible, very divisive future.
I just want to take this opportunity to thank everyone for their support so far and all the incredible feedback I've received about the novel. It's been many years in the making and I still can't believe the end is in sight…well, sort of. I hope to get the novel ready for Kindle by the beginning of 2018, so follow me on Facebook and Twitter for all updates.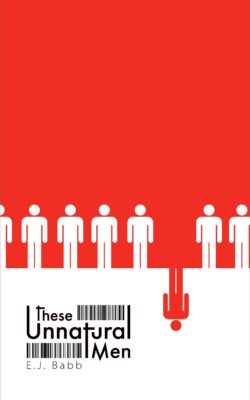 In this extract Nieve meets her new patient, David. This is the first time she has ever had a voluntary patient.
David was lying with his back to me, his body wrapped in a bed sheet with only his thick, black hair protruding from the top. There was no response as I knocked on the glass but I keyed in the code anyway and entered.
After a few steps in I hesitated, unsure what I had hoped to achieve with no preparation and an unconscious patient. I removed one of the handheld screens from the compartment on the wall and scrolled through his case file to waste some time, wondering how I could leave the room quickly while retaining some remnants of self-respect.
"Hello."
I dropped the screen, which zipped back into the wall by its retractable wire. David was watching me from the bed, his smile no doubt the result of my response.
The bed sheet had fallen down to his waist, revealing a torso that was nothing but a ripple of bones running jaggedly under discoloured skin.
His neck, pulsating and writhing with prominent tendons, made way to a thin jaw and hollow cheeks covered in grey, flaky skin. I could see the outline of his eye sockets. He couldn't have weighed more than a hundred and ten pounds.
It was the stark contrast of his inky hair against his natural fairness that attributed most to his colourless, ill appearance; his hair was so dark it could only have been the result of dye. The black tufts just didn't sit right with his pallid complexion.
"Hello?"
I forced myself to focus on conversing. "Yes. Hello, David, my name is Nieve Hindeman."
I offered my hand but he didn't take it. It wasn't so much of a snub, he just didn't want to shake my hand.
As he tried to sit up straight David winced, sliding back down into a slouch. I imagined there were a number of purulent bedsores covering his underside from the look of his emaciated body. He must have been bedridden for months – there was no way he was strong enough to stand, let alone walk.
"And how can I help you, Nieve?"
"I'm your euthanasist," I said, trying not to stare at the way his breathing made his ribs undulate beneath translucent skin.