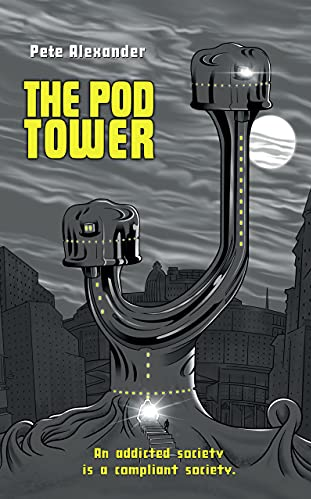 The Pod Tower by Pete Alexander
It's 2057 in The Pod Tower, and Marcus Calvert lives in Gunners Park, which is in the Outer Zones of Mother City. We first meet a hungover Calvert as he is visited by Councillor Gideon Hurst, an elegant, one-eyed man who was once business partners with Calvert's father. Hurst has gone to Calvert's home, as he often does, to try and persuade him to leave his humble dwellings and re-enter society by moving to the heart of the city.
Calvert doesn't trust the city. He doesn't trust the technology that its inhabitants are dependent on. He doesn't trust the government and their intrusive surveillance measures. He hates the digital culture that has taken over, and the way society has to be plugged into something at all times, never quite connecting with one another, never fully present in the moment.
But when Calvert finds out his son is in desperate need of his help, he has no choice but to face a world he has tried so hard to avoid. Along the way, he has to unpick the mysteries of his past and finds he can no longer ignore his close ties with Mother City.
The Pod Tower is a beautifully written dystopian novel that questions the digital culture we are entangled in. Calvert often makes disparaging remarks on the use of tech to isolate oneself in a crowd, while it is simultaneously used to 'connect' with others. There are also 'pleasure booths' featured within the novel, so users can 'indulge in unparalleled sensory overload' – but always alone. Instead of truly experiencing the world, people are choosing to experience synthetic sensations, ultimately to numb their true sense of self.
There is also a real sense of apathy with the citizens of Mother City, and a lack of any identity or individuality. They follow trends and pleasure and comfort, and they ignore the surveillance cameras and the controlling nature of the government and the tech they use. It is an addicted society, a compliant society, that feels everything second-hand through a device.
Alexander's frustration at the digital age is incredibly palpable within this book. Calvert is an outsider because he refuses to plug himself in and while away his hours in unreality, and the ridiculousness of this segregation is reminiscent of the dependence we currently have on smartphones and social media, and how those who do not have either are seen as 'other' and 'abnormal'.
I found The Pod Tower to be surprisingly philosophical, exploring complex ideas and concepts through the inner dialogue of the characters who are dissecting the world around them. It truly is a fascinating read, with many insights for the reader to ponder. However, exposition and inner dialogue are often used to put forward these ideas and criticisms rather than plot, which did slow the pace of the novel despite it being quite short in length.
That being said, the book has not left my mind since I read the last sentence on the final page. To me, this is a modernisation of Nineteen Eighty-Four, an insight into how oppression can be disguised as freedom with the use of gadgets and trends. The Pod Tower is a must-read for all fans of dystopian fiction and any sceptics of the digital era, which I personally believe is both improving and degrading us as a species.
The Pod Tower is out now and available on Amazon in paperback and Kindle e-book.