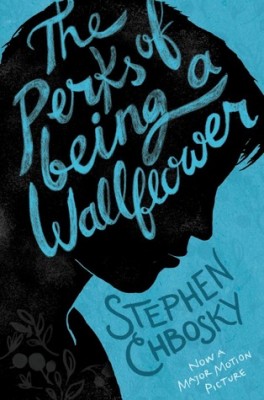 The Perks Of Being A Wallflower by Stephen Chbosky
The narrator of the story is Charlie, a deeply emotional yet philosophical teen who documents his first year of high school through a series of letters directed to an anonymous friend, someone who he believes he can talk to about personal matters yet someone who's identity is never revealed. He is very much an outsider at school but does make friends with a set of twins in their senior year named Sam(antha) and Patrick. They are obviously seen by Charlie as really cool and groovy (please replace the underlined words with contemporary terminology) but I have a feeling they are more likely to be freaks, oddballs, rebels without causes. The kind of people you want to be friends with now rather than at the time in your life that you want to be seen as hip and happenin' (how am I doing on the youth talk?).
The plot is geared towards a big revelation, of which I obviously shan't detail here, but generally the novel is about Charlie's thoughts and philosophies as he is introduced to new and wild experiences by his two older school friends. He also occasionally butts in with devastatingly astute interjections such as
"Then I turned around and walked to my room and closed my door and put my head under my pillow and let the quiet put things where they are supposed to be."
and
"And in that moment, I swear we were infinite."
also
"We were too young to know that the bus driver didn't care about our song. That all he wanted to do was go home after work. And maybe sleep off the drinks he has at lunch."
Charlie is the teen you wish you could have been, slightly mental and abnormal, but ridiculously self-aware and cleverer than any of the adults around him. We all like to believe we were like him 'back in the day' but we were definitely not. We were spotty oiks who shouted, cried and drank vodka at bus stops. Charlie has thoughts, deep thoughts, and everyone likes him. God knows I wasn't greatly liked when I was moody and half-arsedly readying myself for my GCSE's, considering My Chemical Romance to be the definition of musical genius.
Perks is very clearly written by a nostalgic thirty-something-year-old man who is looking back wistfully on his teenage life through a haze of '80s films and fading memories. There are times when you wish for Charlie's hormones to take over so that he would dry-hump Sam or Patrick's legs without a thought towards consequences, emotions, feelings and other such un-teenagery stuff, but then again that may just be me. The book is so powerful and thoughtful that it does tend to ruin the sentiment to think too much about the author and the more realistic aspects of the novel's conception. You will finish Perks feeling completely in love with Charlie and, as I said before, will wish you had embarrassed yourself a little less and had come up with a few more witty remarks when you were fifteen.
This book is a must for teenagers…actually sod them, it's a perfect book for those who wish they were teenagers again, or even those who just want a different perspective on life's array of first experiences. This book is contemplative without being patronising, sickening or pandering too much to the struggle between youth and maturity. This is more than a coming-of-age story.