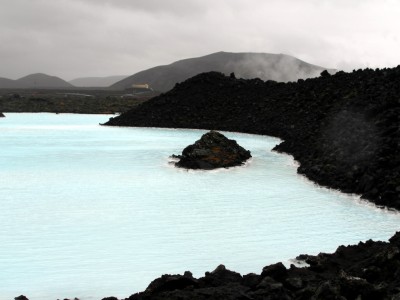 One thing that every tourist has to do at least once while travelling through Iceland is visit the Blue Lagoon.
The Blue Lagoon is a geothermal spa in Grindavík and was the accidental creation of the condense outlet water from the power station in Svartsengi. The water should have soaked through the ground of the volcano field on which it sits but, as it didn't, people began bathing in the water and enjoying the beneficial properties of the minerals from the silica mud and the sulfur. The water can range from 37°C to 39°C and is like an intricately built, energising bath where you can relax with a refreshing (non-alcoholic) beer or swim across the shallow waters with a face covered in white mud.
The place is brilliant; the changing rooms are ridiculously clean, I found the slight space-age feel to the lockers and wristbands fascinating and the free shower gel and conditioner available within the showers was really good.
The water itself is lovely, like being in an oddly-coloured sea with sand and rocks beneath your feet and a fancy health spa surrounding the view that isn't mountainous. A sore cut that I had on my hand is healing nicely now and my skin does feel softer and smoother thanks to the water, although my hair has the typical icky feeling that the sea often gives it.
The people were hospitable and the food and drink in the cafe was nice, if fairly overpriced. I wasn't shocked to discover the gift shop was also overpriced and mildly naff, but then again the lagoon is a very tourist-driven activity.
Aside from someone pulling my towel off the hanger by the lagoon onto the wet floor to make space for their own, I had a very relaxing time. Highly recommended, and you don't have to shower naked with a load of fat, old women like you do in Icelandic swimming pools – although you will be forced to see them. Why are the confident ones always fat and old?