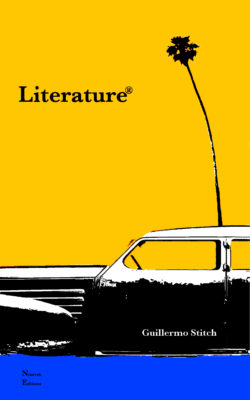 Literature® by Guillermo Stitch
In Guillermo Stitch's debut, Literature®, literature is illegal. And why wouldn't it be? It puts ideas in people's heads, makes them unruly and is generally troublesome for society.
The story is written in two interweaving timelines – both of which follow Billy Stringer, a sports journalist working for the Herald. One timeline is of his present day, of a fully 'literature-bent' Billy (someone who is illegally immersing themselves in literature) trying to save himself from the cops, and the other shows Billy's slow descent into this unlawful novel-reading – with a bit of devastating heartbreak mixed in, of course.
The result is a fast-paced, witty satire that is a breath of fresh air for the dystopian genre. Dark, funny and beautifully written, Literature® is a must-read, no matter if you're a lover of sci-fi or more of a literary fic fan.
I was certainly enamoured by the character of Billy. He's not your cliche anti-hero loser who's lost his girlfriend and is struggling to conform, nor is he the cold-hearted vigilante. He's a normal guy who doesn't necessarily help himself in certain situations, but he's incredibly enjoyable to read. I do wish Literature® was just that little bit longer so I could spend more time with him, but maybe that's just greed.
Despite this being a short novella, there is a rather heavy dose of exposition from the get-go. It's a lot to take in all at once, but once you manage to get your head around the setting, the terminology and what the heck is going on, it's a truly thrilling read.
I can very clearly envision Literature® as a throwback noir movie one day, so give it a read now so you can be one of those smug arses that knew about Stitch before he became a big shot. Available in paperback and Kindle now.