Before I write anything else, I have to admit something: I knew absolutely nothing about the Imagine Peace Tower ceremony on Viðey Island last night until I got there, all I knew was that there was a free bus and boat ride to the island and back due to it being John Lennon's birthday. I followed the excitable students and tourists with a can of beer in my hand and a smile on my face, amused that I was not the only one clueless about the events of the evening other than the free travel.
It could have been an adventure to a night of human sacrifice and we still would have all boarded the free bus and boat, gleefully jangling the untouched change in our pockets. In a way the island did look a little like a scene from the Wicker Man as the paths were illuminated by eery candlelight and the crowds had gathered nervously around a dimly lit stage. Thankfully a cheerful-looking lady informed us that we were about to witness the Hljómeyki choir, a speech by Yoko Ono about the Imagine Peace Tower that had been erected in John Lennon's name, and finally the lighting of the Imagine Peace Tower itself.
It really was a beautiful evening in a stunning location, if a little cold and rainy. The crowds sang along to Lennon's 'Imagine' as it played, photographs were taken and everyone was in awe of the incredible tower of light.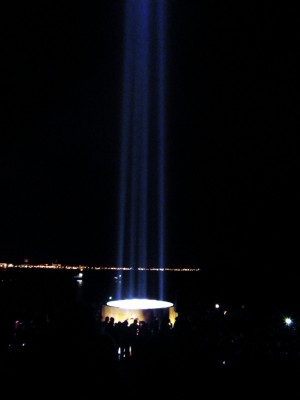 I myself was getting into the spirit of things, taking pictures of the tower and chatting to friends…but then horror of all horrors, a news reporter asked if she could interview me.
I grabbed a friend and forced her to be in the interview with me, ignoring her feeble protests, and we stuttered and giggled and ummed and ahhed and looked like complete tits in front of a camera for five minutes. But it was funny, although I realised afterwards that my hair was sticking up all over the place and my makeup had run due to the rain. My first television appearance and I was a complete fumbling mess. Ah well, they probably didn't use it anyway. Hopefully.
I can't believe it took me until last to realise how incredibly lucky I am to be in Iceland, having the freedom to be able to see things such as the Imagine Peace Tower without a second thought. The event itself was a teeny bit corny and hippyish, but I suppose I'm secretly a sentimental sap.
I only have 26 days left on the isle of ice and fire, and I'm really going to miss it.