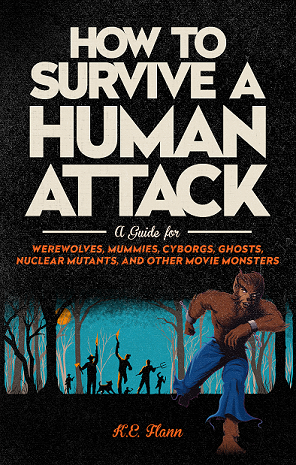 How to Survive a Human Attack written by K.E. Flann and illustrated by Joseph McDermott
DISCLAIMER: This review is strictly for werewolves, mummies, cyborgs, ghosts, nuclear mutants and other movie monsters ONLY.
Let's face it – if you don't identify as human, or at least human-ish, Earth is a dangerous place to live. Those hairless, fleshy psychopaths have a bloodlust like no other species, and when it comes to survival they almost always win.
But now, thanks to a new manual written by K.E. Flann and illustrated by Joseph McDermott, the underdog (or underwolf, if you're so inclined) can finally gain the upper hand.
How to Survive a Human Attack is as informative as it is strategic in nature. It is a one-stop shop for all your human questions. This is an essential read for everyone, from those who have never met a human before to those who have had practical experience in combat, yet wish to stay up-to-date with the latest survival techniques.
The manual begins by identifying what a human being actually is from an external perspective. You can go on to learn about their varying habitats, behaviours and even some of their subspecies. This is very important, especially if you aren't prepared for an attack, or are looking for a specific type of human.
This manual is by no means a generalist text. There are specific sections dedicated to many forms of non-humans, from witches and vampires to swamp monsters and radioactive mutants. It is filled with helpful tips and tricks, and even contains exercises, quizzes and handy examples to follow, all incredibly clear and beautifully illustrated.
A must-read for all creatures, I can't recommend this book enough. Just remember to keep it away from prying human eyes – as I said, those hairless, fleshy psychopaths almost always win. And as we're nearing Halloween, there's never been a better time to up our game.
If you're looking to get your hands/paws/hydraulic appendages on a copy of How to Survive a Human Attack, you can find a link to your preferred outlet on Running Press' website.