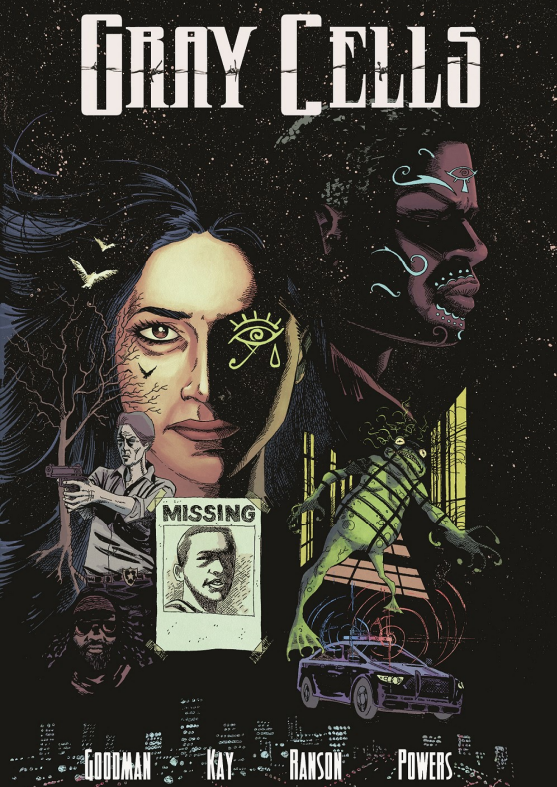 Gray Cells – artwork by Kay, written by Lawrence Goodman, colours by Corey Ranson and letters by Nikki Powers
Now the weather is getting colder and the nights are growing darker, it's time for tense mysteries. Dark cityscapes. Sinister characters.
Gray Cells ticks all of those boxes, with a sense of foreboding deepening on every page. The first issue thrusts you straight in at the deep end as eight-year-old Joshua Glass is snatched from his alcoholic, drug addict mother in the night by a creepy, creeping being. The police are no use; they've seen many children go missing in similar circumstances. They assume Josh got himself involved in drugs, like the rest of the neighbourhood kids, or simply ran away from his mother and their filthy apartment. And who could blame him?
But Josh is a good kid. Tired of being ignored, Cherry, Josh's mother, calls the Stonebridge Guardian to get a journalist involved in the investigation. The paper sends Lina Santos, who is more than happy to get promoted from celebrity gossip to look into Josh's disappearance.
Lina interviews the usual suspects – Josh's mother, the detective on the case, local kids, teachers and pupils at his school – only to face the disturbing reality of a poor city without the time, money or resources to even notice Josh has gone missing, let alone find out what happened to him. He is simply another faceless child who has fallen through the cracks of a broken system.
But Lina is determined to find out what happened. Others may have failed him, but Lina will uncover the truth about who (or what) has taken Joshua Glass.
While I am an infrequent reader of comics, I know good storytelling when I come across it, and the first issue of Gray Cells is incredibly intriguing. I would describe the art style as dark noir, realism meshed with hints of grotesque horror. Coupled with the pithy, restrained dialogue, I felt in very good hands with this story. The first issue felt unrushed and full to bursting with deliciously horrifying secrets waiting to be revealed.
If you love a hard-hitting, dark and twisted supernatural tale, I think I've found your new favourite comic series. Gray Cells launches on Kickstarter on 2nd November.