The festive season and dystopian nightmares rarely coincide as a theme, but I did manage to find a tenuous link between the two via the never ending joys of Google searches.
In 1946 George Orwell was tasked with writing a manuscript on British cookery. Unfortunately this was never published…mostly due to the fact that lots of ingredients were hard to come by at the time because of rationing.
The people of 1946 may not have been able to enjoy Orwell's recipes but we certainly can! Below is the Christmas Pudding recipe from his manuscript that, although may be a far from stimulating read, still seems a fairly solid recipe. I think Christmas Pudding is repulsive and so will never try making it myself, but if anyone out there gives it a go feel free to leave a comment below about how it went.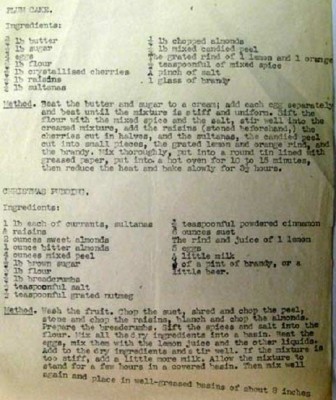 CHRISTMAS PUDDING
Ingredients:
1 pound each of currants, sultanas & raisins
2 ounces sweet almonds
1 ounces bitter almonds
4 ounces mixed peel
1/2 lb brown sugar
1/2 lb flour
1/4 lb breadcrumbs
1/2 teaspoonful salt
1/2 teaspoonful grated nutmeg 1/4 teaspoonful powdered cinnamon
6 ounces suet
The rind and juice of 1 lemon
5 eggs
A little milk
1/8 of a pint of brandy, or a little beer.
Method: Wash the fruit. Chop the suet, shred and chop the peel, stone and chop the raisins, blanch and chop the almonds. Prepare the breadcrumbs. Sift the spices and salt into the flour. Mix all the dry ingredients into a basin. Beat the eggs, mix them with the lemon juice and the other liquids. Add to the dry ingredients and stir well. If the mixture is too stiff, add a little more milk. Allow the mixture to stand for a few hours in a covered basin. Then mix well again and place in well-greased basins of about 8 inches diameter. Cover with rounds of greased paper. Then tie the tops of the basins over [with] the floured cloths if the puddings are to be boiled, or with thick greased paper if they are to be steamed. Boil or steam them for 5 or 6 hours. On the day when the pudding is to be eaten, re-heat it by steaming it for 3 hours. When serving, pour a large spoonful of warm brandy over it and set fire to it.