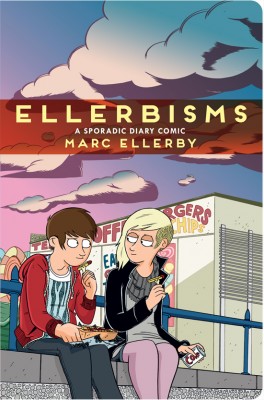 Ellerbisms by Marc Ellerby
As I mentioned previously in my review of The Dalek Project I am no connoisseur of comic books, graphic novels or anything that could be remotely associated with art. However, like any amateur wannabe critic, I do know what I like…and I definitely like Ellerbisms.

Ellerbisms is a collection of short autobiographical comic strips that mainly hones in on the relationship between Marc Ellerby and his Swedish girlfriend, Anna. It also displays everyday life at its most exciting and its most tedious, captures the soul-destroying pain and intense euphoria that pursuing a creative career can evoke, and beautifully reveals the traits of a typical, modern day twenty-something; an excitable, guilt-enslaved idiot, too busy overthinking and underthinking and not thinking at all.
The whole thing is best described as irrelevant relevance, romanticizing the unimportant and downplaying the catastrophic. Turning a fleeting moment into a permanent one is strange, entertaining and thought-provoking, and it oddly forces the reader to consider their own life while reading the deeply personal thoughts of someone else.
The art style of the book is full of charm, creating a blend of cartoonishness and realism that successfully made the lives of the 'characters' captivating without creating the feeling of voyeurism. The whole look is bold and simplistic, displaying only what was important for Ellerby in the memories he revisits.
It's hard to critique the content of this book without feeling guilty as I'm judging real people and real situations here, but I occasionally found Ellerby and Anna a little oversensitive and mildly emo towards each other (but then again he does warn of these emo tendencies throughout). I also found Anna's seemingly lack of drive beyond that of supporting her boyfriend hard to stomach, but of course Ellerby is the main focus here and we aren't privy to Anna'a inner monologue. They both seem a little too consumed with one another and, although the sections detailing their relationship were by far the best, I had guessed their love would be heading for exhaustion from the beginning.
But basically, all in all, I absolutely adored this book. It was edgy, silly, interesting and poignant. Again, I am no avid reader of graphic novels so I don't know how this stands up against the rest of the genre, but Ellerbisms really struck a chord with me and is definitely something I can find myself rereading.