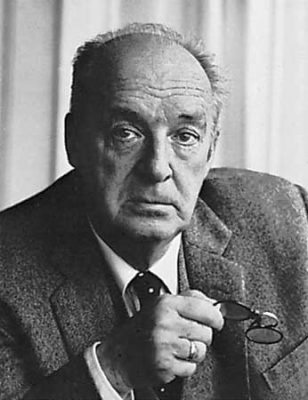 Name: Vladimir Vladimirovich Nabokov
Nationality: Russian
Born/Died: 1899-1977
Famous for: Lolita (1955) Pale Fire (1962) Speak Memory (1951) Bend Sinister (1947) Invitation to a Beheading (1959)
What makes him a revolutionary: Vladimir Nabokov was born to a noble family in Russia in 1899 but was forced to flee with his family after the 1917 February Revolution. He subsequently lived in several different countries during his lifetime, including Berlin for over a decade, and settled in America in 1940. His final years were spent in Switzerland.
Nabokov wrote ten novels in Russian before switching to writing in English, which boosted his success exponentially. He was renowned for his bilingual mastery, the complexity of his plots and his beautiful yet intensely dark prose. He is best known of course for Lolita, which depicts a man's sexual adoration for a twelve-year-old girl. It's a difficult yet rewarding read, disturbingly masterful as it reveals a different side to a character who would otherwise be deemed an inhuman monster.
Nabokov wrote two dystopian novels: Bend Sinister and Invitation to a Beheading. Bend Sinister is about a state that has been  taken over by the tyrannical 'Average Man' party, and Invitation to a Beheading follows Cincinnatus, a man in prison condemned to death but unsure what exactly will happen to him and when. Although Invitation to a Beheading is often seen as less profound version of Kafka's The Trial, it is still an outstanding contribution to literature.
The diversity, ingenuity and originality of Nabokov's work has made his status as a revolutionary writer unquestionable. Although he has (quite rightly) been remembered primarily for Lolita, he has a large body of work that is incredibly accomplished. Ensure to read Pale Fire and Speak, Memory as they have received huge critical acclaim.
Save