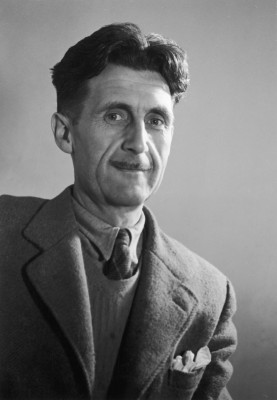 Name: Eric Arthur Blair
Nationality: English
Born/Died: 1903-1950
Famous for: Nineteen Eighty-Four (1949) Animal Farm (1945) The Road to Wigan Pier (1937) Why I Write (1946) Homage to Catalonia (1938)
What makes him a revolutionary: When considering dystopian fiction many regard George Orwell as the figurehead of the genre. His novel Nineteen Eighty-Four was one of the most effective post-war novels to have been produced from the era and, with its iconic imagery and terminology, the novel has become one of the most seminal pieces of science fiction to have ever been created.
Orwell was born Eric Arthur Blair in Bihar, India, and moved to Oxfordshire in 1904. He had a fairly privileged upbringing and was educated at Eton, although his family could not afford to send him to university. Instead he travelled to Burma to become a policeman and had his first real encounter with social injustice and poverty.
Burma certainly changed Orwell and he was incredibly outspoken on humanitarian issues for the rest of his life as a result. He also travelled to many different countries and areas across England in order to understand the lower social and economical levels of society, a fascination that saturated his work.
As World War II broke out Orwell was deemed unsuitable for military service but was determined to contribute in any way he could. He joined the Home Guard but was wracked with guilt for not being able to do more.
His novel Animal Farm became incredibly popular post-war and enabled Orwell to become a successful essayist, critic and journalist.
Nineteen Eighty-Four was written during the final years of Orwell's life. It was his magnum opus, an amalgamation of his ideologies, fears, predictions, experiences and philosophies. It focussed heavily on totalitarianism and had unconcealed references to World War II. For many it summarised the emotional turmoil and devastation caused by such a horrific, pointlessly tragic event.
George Orwell died at the age of 46 of tuberculosis. He was a strongly opinionated and principled man and an independent thinker who strove to push past the bullshit and fakery that Englishness often preserves. Although he did not always say the most appropriate things and was not always correct in his assumptions (for one he was openly homophobic), Orwell was compelled to stick to what he thought was right and fair. He was an interesting figure who often isolated himself and provoked arguments for his own amusement, but ultimately he stood for freedom and continuously challenged the status quo. His words resonate even today, and his powerful fiction has helped preserve our rights with the reminder that 'BIG BROTHER IS WATCHING YOU'.
In a time of universal deceit – telling the truth is a revolutionary act.