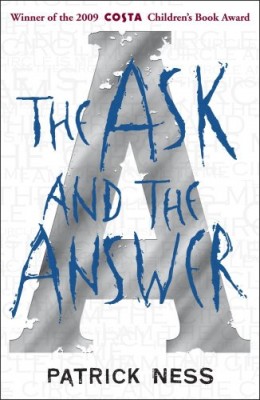 The Ask and the Answer by Patrick Ness
Oh dear.
I had such high hopes for the second installment of the Chaos Walking series but, unfortunately, I was disappointed beyond the realms of human containment. I can't positively review this book, although I really wish I could.
There is an annoying pattern with series of teen dystopian fiction where the second and third instalments are seemingly watered down imitations of the first book. As with the Hunger Games, The Knife of Never Letting Go was original, heart-wrenching, exciting and completely captivating. The Ask and the Answer on the other hand was long, drawn out, unemotional and dull.
I don't want to draw too many comparisons between Patrick Ness and Suzanne Collins because their novels are very different bodies of work, but it was upsetting to realise that both seemed to have had incredible initial ideas that then ran out of steam. Their fictional worlds were fairly flimsy even though there was a lot of time spent relaying insignificant details, and the art of story-telling itself fell apart with the later novels as they were seemingly used to unimaginatively answer questions posed in the first books. Twice now I have gone through the pain of realising that a perfectly good plot has gone to waste, and I pray for it never to happen again.
But let's just focus on Ness. The Ask and the Answer continues the story of Todd and Viola and their desperation to overthrow Mayor Prentiss, only this time they have been separated and remain that way through the majority of the novel. In fragmented parts we follow Todd and his strange attachment to the Mayor, and in other chapters we follow Viola's sudden jump towards a peculiar suffragette movement with the women of New World. There is a resemblance to Margaret Atwood's The Handmaid's Tale in these segments, but there is also a tedious theme of senseless, angry, man-hating 'feminism' that thoroughly repulsed me.
It is with great sadness that I dub this book charmless.
At the end of the day, Ness should never have killed off Manchee.