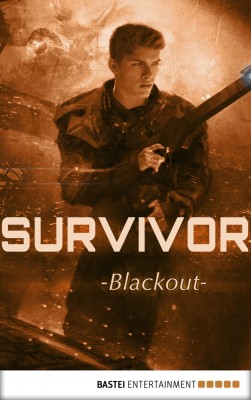 Survivor (Episode 1) by Peter Anderson
The series begins in Switzerland, 2012, as Dr Eva Kessler, Dr Peter Kasanov and their team begin an experiment to launch Ryan Nash and his crew across to the other side of the universe in search of sustainable fuel. Just as the ship, called Survivor, disappears from sight and the experiment appears to have been an initial success, a black hole is created which engulfs everything in existence.
Cut to Nash in his ship, waking from cryogenic sleep on what is believed to be the planet Sircus II. As he slowly comes to he realises that there is no power on board and some of his crew members appear to have amnesia. One member of his crew, Proctor, is also dangerously weak from the journey and is near death. Nash desperately needs the others to remember why they are on board the ship because, not only does he need all the help he can get on an alien planet, but each crew member holds a special ability that could determine the fate of their lives and the success of the mission. But will they begin to trust him and help save Proctor? Will they be able to reboot the ship? And where exactly are they anyway?
The first installment of Survivor was filled with just the right amount of clues, hints and mysteries to suggest an engaging intergalactic adventure story without giving too much away. It is also a satisfying read, offering a bit of historical and scientific background to the plot without bombarding the reader with unnecessary buzz words and jargon.
I found the characters to be fairly cliche but as this is the first installment I expect they may become more substantial as the series goes on. The prose itself was simplistic and slightly ineffectual at times but was purpose-built for action-driven sci-fi stories such as this, and was also not jarring in any way.
I would think fans of Doctor Who, Star Trek and other such shows to be the primary audience but there is also the potential for the plot to slide into fantasy or maybe even horror. Intriguing and exciting, Survivor is an interesting edition to the new episodic ebook movement.
SURVIVOR will be released weekly from 21st July with Bastei Entertainment.