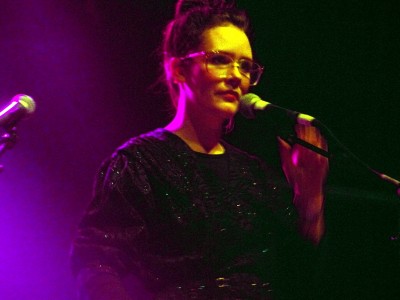 01/11/2012
sóley at Reykjavík Art Museum
Why so serious?
I like sóley, I really do; her albums are atmospheric, her voice is haunting and she's generally really lovely to listen to…in the background of a sombre gathering. Unfortunately for this hipster she was set to play after Phantogram who are a bouncy, dancy group that really riled the audience. Afterwards sóley just seemed a little…depressing?
She's talented and cool but not really festival material. She grabbed no one's attention in particular and she knew it. "Sorry for being such a funeral," she said at one point as the audience began to chatter, unsettled and bored.
I recommend getting one of her albums to play while you do the housework, to set the mood during your studies or as a knitting soundtrack. Seeing her live would also be worth your time if you become a fan as she is an excellent, well put together musician. It's just unfortunate that after a few beers I found her so incredibly tedious, mostly because she didn't look like she was having much fun herself.