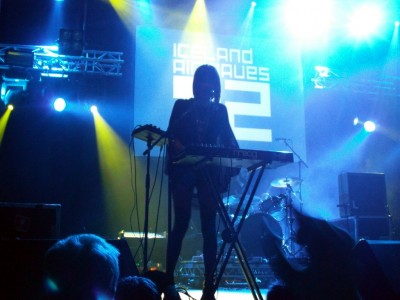 01/11/2012
Phantogram at Reykjavík Art Museum
Phantogram are obviously a music act used to playing to a large audience. As the Art Museum filled, the two Americans looked more and more in their element.
Sarah Barthel (vocals and keyboard) was headbanging so hard I thought she was going to dislocate something and Josh Carter (vocals and guitar) played the part of the cool, sophisticated rockstar. Although the songs they played didn't sound as crisp as they do on the album, they still pulled off a pretty impressive show. 10/10 for enthusiasm at least.
I would definitely pay to see Phantogram again. They're incredibly energetic and entertaining, and Barthel's vocals are very strong live (even when headbanging), it's just a shame that the keyboard and guitar-playing sounded fuzzy and unfocused. But could that have been the sound system? Who knows. Either way it was fun.