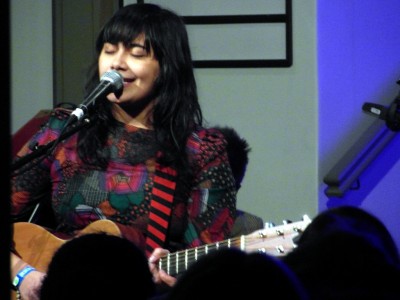 2/11/2012
Lay Low at Fríkirkjan
Outside we battled winds as strong as Hurricane Sandy and scrambled frantically into the tiny Fríkirkjan, perching on uncomfortably firm pews in order to listen to an unassuming, indified Icelandic woman and her band…and my god was it worth it.
Lovísa Elísabet Sigrúnardóttir is an incredibly funny and humble blues-style singer with an abundance of talent and wit. She reminded me slightly of KT Tunstall with her mildly husky voice, folksy songs and relaxed countenance, but she is still very much her own person.
Emotion emanated from Lovísa as she played and the audience was enraptured by her performance. The highlight was definitely when she announced that she had strummed her guitar too hard and cut her finger. She then proceeded to spread the blood seeping from her wound across her cheeks, and stated, "Rock 'n' roll," in a calm, flat voice. I've definitely fallen in love with her.