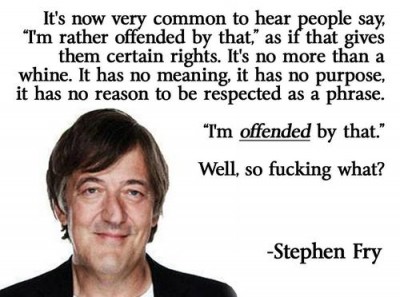 I recently watched the 2006 programme 'Don't Get Me Started: What's So Wrong About Blasphemy?' on YouTube and was immediately reminded of Stephen Fry's hilarious quote on respecting and offending religious beliefs. But the thing is, I don't know what it means to actually offend someone. I understand that to intentionally upset and annoy is unnecessary and perhaps cruel, but what is the distinction between being annoyed and being offended? Is it at the top of an emotional hierarchy or is it a calculated choice?
Let's get the definition to start off with. To offend is to 'cause to feel upset, annoyed, or resentful' according to the dictionary, so being offended is an emotional response. But why is this emotion given more weight than others?
This could be because this emotion is often brought up during meaningful debates (e.g. religion), which automatically adds a level of seriousness to it. You could say that being offended is a lazy way of arguing a point as, if you tell someone they are offending you or hurting you on purpose, they quickly become the arsehole of the situation. The offended party is subsequently the innocent victim and the debate sides with them.
It is easy to stop an argument in its tracks by adding an emotional response as no one can argue reasonably against a feeling. Because you can't argue back, the offended win the argument. With this in mind, by halting discourse on purpose in order to stop an opinion from being voiced, you could possibly say that being offended is a form of censorship. As censorship is a form of power struggle, being offended by something is actually an aggressive and unfair approach to getting your own way.
And now we're in a grey territory. Is both offending someone and being offended a form of intimidation? Can both stances be a form of attack? Who would be right or wrong in this sort of situation?
What it all boils down to is having good enough debating skills not to have to resort to the 'o' word in the first place. To offend or be offended is like doing a foul move in one of those sports games or giving a red card to Wayne Rooney (I totally understand sports metaphors).
We need to stop giving this word so much significance and learn that stopping an argument is not necessarily winning it. I believ  schools should not only teach about deliberating academic concepts, but also show how to voice personally forged opinions competently. The art of a good argument needs to be more widely known; how to put forward ideas in a succinct and intelligent way without being cruel, and accepting the opinions of others are all essential elements to becoming a well-rounded human being. Emotion should be a big part of our thoughts and decisions, but offending or being offended should not.
At the end of the day, why should anyone care whether you or I are offended by anything if we can't explain why?