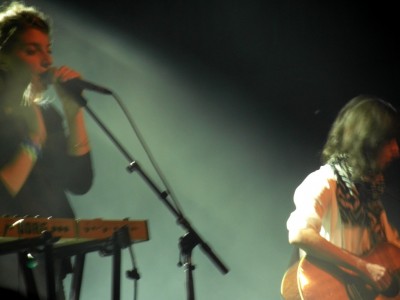 03/11/2012
Boy at Harpa Norðurljós
Although playing to a sparse audience, Boy's optimistic pop tunes didn't fail to impress. The two girls strummed their guitars with gusto, speaking more of their appreciation for those who had come rather than commenting on the empty spaces dotted around them.
Boy is a girlish indie pop band with a bit of an edge. They sing sweetly yet about the downsides of harsh partying and the pain of relationship breakups…although there are a few songs about the love of friendship and other more flowery topics. Boy turned up with no set list and no drummer yet their performance went smoothly and was really enjoyable.
Although by no means a life-changing band, Boy are very good at what they do. They may have a song with a backbeat comprised entirely of rhythmic clapping with a chorus of 'Ooooh's for a bit of forced audience participation, but the audience very joyfully participated. Also, said clapping song is very catchy and really gets stuck in your head.