2019 was a bit of a black hole for me.
Things started off a little ropey in January, then I got ill for about six weeks in March. At the end of April I started a new job, so I decided to give myself a month or two to fully concentrate on that before returning to 'normality'. Somehow allowing myself time to relax outside of work made me lose a lot of energy and focus, and now I'm reflecting on the last twelve months with a sense of complete bewilderment. What happened? Where was I? What did I achieve? Not a lot, that's for sure.
On top of being disappointed with myself, UK politics has saddened and frustrated me more than I ever thought it could. Actually, global politics has saddened and frustrated me more than I ever thought it could.
The state of the world is dire. Social media brings me nothing but disgust and bitterness. I can't find any new music to obsess over. Many of the latest TV shows, movies and books I've come across are so bland I can't muster enough energy to finish them.
Oh yeah, and I've attempted to write my second novel three, maybe four times this year. I always lose interest a few hours after rediscovering an interest in it, and then I end up deleting everything I've written.
Okay, so maybe a lot of my issues with 2019 are attributed to my depersonalisation disorder, but my mental health is not entirely to blame. There is something wrong with the world right now, a sickness in humanity, our economy, our ecology and the overall wellbeing of planet earth. Can you feel it? If I was a spiritual person, I would try to explain myself in terms of moons or balances or something, but I'm not that kind of person. Everything just sucks.
This is a long-winded excuse for why I've not written very much – or ver consistently – on Dystopic this year. I just didn't feel like it, so I didn't do it. But I'm bored of apathy, anxiety, apprehension and every other 'a' word you can think of that describes my malfunctioning brain. 2019 was a bit of a wet noodle, but Christmas is over now and 2020 is an incredibly satisfying-looking number, so I'm going to stop playing Sims for days on end. I'm going to stop turning on my laptop, staring at a blank Word document for forty minutes then switching it off again. I'm also going to stop drinking a couple of bottles of wine every week in an attempt to suppress any creative urges I might have.
To say a proper farewell to 2019, the most nothingy of all the years, I'm going to give a disgustingly positive review of the things I actually enjoyed about it. So, without further ado, here are the books, movies and albums that made me happy over the past twelve months. And just as a disclaimer, while all the movies and albums I've mentioned below were released in 2019, I didn't actually read any new books. I won't go into the how/why/what of that, but I just thought I'd mention it. Enjoy!
–
My favourite book of 2019
The Magus by John Fowles (1965)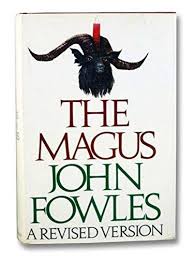 Ever since reading The Collector. I knew I wanted to read more of Fowles' work. The Magus was sitting on my shelf for the longest time due to its enormity, but I finally decided to 'give it a go' halfway through 2019 (I say 'give it a go' because, as I said, I've struggled to finish a lot of books this year. I was fully expecting to stop a quarter of the way through).
Despite being a very chonky book, it didn't dip in quality once. The plot chops and changes all the time, the characters either lie or develop so you're never bored of them, plus there's violence and mystery and magic and drama – it really is a masterpiece.
While I did prefer The Collector overall, mostly because I adore books that delve deep into a single character's psyche, The Magus was incredibly compelling and I've never read anything so fast. My boyfriend even read it after me and finished in a week. If you think you would like something I would describe as a cerebral adventure book, this is for you.
Bonus book
How to be Yourself by Ellen Hendriksen PhD (2018)
This is the only book I've ever bought in audiobook form and I listened to it twice this year. If you have anxiety or self-confidence issues, listening to Hendriksen feels like coming home. This completely changed my life (no exaggeration, I promise) and made me realise that the way I perceive myself, and the way I perceive others to perceive me, is completely wrong. I've recommended it to just about everyone I know and I'll continue to do so. Also, I'm glad I didn't judge it by its cover – it looks very self-helpy, but it's actually based on solid CBT practice. Not wishy-washy in the slightest.
My favourite movie of 2019
Joker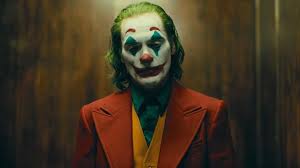 Joker was everything I'd been craving from a cinema experience. Superb acting. Complex characterisation. Brilliantly shot. While the plot may not have been as polished as it could have been, it was still an incredible ride.
I wholeheartedly believe that Joaquin Phoenix is the best living actor…except for Daniel Day Lewis, of course. And Eddie Marsan. Ooh, and Tilda Swinton. Okay, scratch that, he's one of the best living actors, but he physically transforms in every role he plays (the way he looked and moved in the Master blew my mind).
Joker must have been a dream role for Phoenix. Arthur Fleck is somehow both sweet yet disturbed with deeply complex issues, desires and decisions, few of which are of his own making. Watching Phoenix perform such an internally contradicting character was breath-taking.
The movie has its flaws, but it was such a joy to pick apart afterwards that they were also its qualities. It's surprisingly understated at times, and its few moments of brutality elicited actual gasps from the audience when I saw it at the cinema (I must also add that the audience were completely silent throughout, which is rare for a screening in Southend).
I will be buying Joker on DVD to rewatch it when it's released. Mostly because it showed me I can still be pleasantly surprised by cinema.
Bonus movie:
Midsommar
This is one of those movies that I feel was marketed towards a certain audience, and that particular audience was ultimately disappointed with what they saw (see also: It Comes at Night and the Witch). But not me. This movie gave me the chills, not as much as Ari Aster's Hereditary or The Strange Thing About The Johnsons, but it has a bizarre, not-quite-rightness that I love in horror. Although some of the characters underreacted during some very disturbing situations, and one character disappeared in a somewhat unsatisfying fashion, I loved how it highlighted the way different cultures often tiptoe around each other these days. Also, I'm always up for a good fictional cult.
My favourite album of 2019
Nick Cave and The Bad Seeds – Ghosteen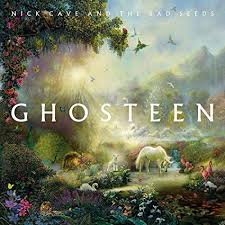 I'm a huge Nick Cave and The Bad Seeds fan. There's just something about them – we're compatible, I suppose. I know I'm going to love whatever they put out there, even if the album art includes a unicorn and looks like one of those cheap lenticular posters you find at market stalls.
This album brought me to tears on several occasions, mostly because it reminded me of my lost creativity and productivity. Everything I felt I lost in 2019, well… this album showed me it still existed somewhere. It was a painful listen at first, but now I find it really comforting.
The lyrics are weird. Sometimes clumsy, childlike and cringy. And they're often about Jesus. But they're Nick Cave. 100% of himself goes into his work, and he clearly doesn't think twice about what people will think when they hear it. I learned a lot of lessons from this album, and every time I listen to it I get even more out of it.
There's just something about this band. I don't know. Like I said, I think we're compatible. I feel as though I just get it. And I need some of that weird, creative, don't-give-a-shit, productive Jesus energy going into 2020, please.
Bonus album:
Twilight Sad – It Won/t Be Like This All the Time
I've been a fan of this band for about twelve years, and this is hands down their best album. I can't tell you how many times I played the track VTr. Or I/m Not Here [Missing Face]. Or Keep It All To Myself. Actually, the whole album has been on a constant loop. I was going to see them on tour (by myself!) but had the flu and couldn't make it. Adds a tinge of sadness to the already devastatingly painful tone of the music.
Bonus bonus album:
Ariana Grande – thank u, next
I don't care how 'basic white girl' this makes me.
Bonus bonus bonus album:
Doja Cat – Hot Pink
This is my 'walking with purpose' album.
Bonus bonus bonus bonus album:
Joep Beving – Henosis
This is my 'existential crisis' album.
–
Well, isn't that a surprise. It seems 2019 wasn't such a black hole after all, especially when it comes to music. Here's to a more positive outlook for 2020.
Happy New Year.