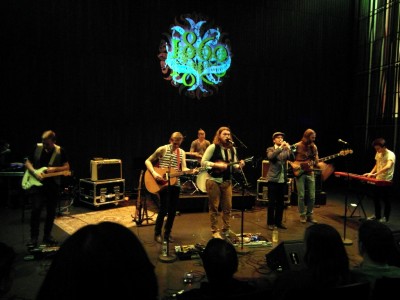 03/11/2012
1860 at Harpa Kaldalón
I love love love love love this band. Before seeing them live I kind of liked 1860, but they definitely won me over with their funny, witty and charming performance at Harpa.
I wasn't entirely sure what to expect when I sat down at the venue as, although I knew a few songs by the band, I wasn't sure how their traditional-sounding indie folk vibe would go down in front of an audience. They were pleasant enough to listen to on the album, but would they be able to hold everyone's attention?
The answer was a resounding yes. The songs were delivered beautifully and the entire audience began swaying and smiling along with the band. All of the musicians provided witty banter in between playing, and there was not a rock 'n' roll grimace, pose or cool man remark to be had. 1860 are just a happy bunch of long-haired blonde guys, playing music for the fun of it. It was refreshing to see a band play without a single ounce of pretentiousness.