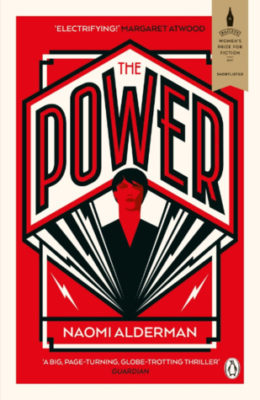 The Power by Naomi Alderman
When I read the premise to The Power by Naomi Alderman I was really put off. I mean, it's a feminist sci-fi in which women suddenly get the power to shoot electricity through their fingers and ultimately become the more dominant sex, why would I want to read something so nauseatingly overstated and simplified to the point of being patronising? Yes, we all live in a predominantly patriarchal society and women have been holding back their true powers for centuries, but surely there are subtler ways of making the same statement. I downloaded the book mainly to argue against the obscenely positive reviews I found of it, something I do far too often to be healthy.
I was surprised to discover that my preconceptions for this novel were entirely wrong. What I thought to be a clear-cut, man-hating rant was actually a cleverly written dissection of human nature, societal norms, politics and authority.
The story is told through the perspective of a few different characters, one of which is a male journalist documenting the changes to society and the violent backlash and confusion that ensues. Each character is tremendously multi-faceted, interesting and, much to my astonishment, actually human-like. The women were not depicted as pure and wholesome and the men were not monsters. In many occasions the opposite was true.
The Power is by no means a pro-women story, nor indeed a man-hating one. The novel is simply a fascinating piece of fiction asking the question all good sci-fis should ask: What if?
This is a must for anyone who has given up on the search for a decent modern novel. It's a little too topical at times with it's mentions of modern technology and social media, so I'm not sure whether it'll age particularly well, but if you want a captivating story that's bound to change the way you see the world around you, check out The Power.